MEET THE TEAM
The unifying factor that binds Urja's team together is their sheer compassion and commitment to incentivise homeless young women effectively so they can create their own destinies. The hands-on, grass-root ideals have allowed them to work with individuals, families, groups, and communities. Spread over a gamut of academic disciplines: social work, education, physical education, economics, and management, each team member fuels and inspires the other to create a dynamic mesh of creative minds who stand up for ONE cause: ultimate empowerment of young homeless women.
Deepali Vandana: Co-founder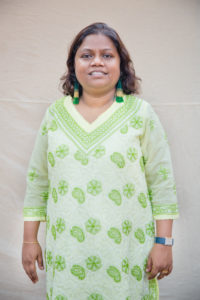 She began working towards social change when she was 18 years old, questioning the injustice faced by women and individuals from lower classes and castes. She was inspired by the life of Dr. Babasaheb Ambedkar among many others and began to encourage young girls, like herself, to understand and raise their voices against social injustice.
Deepali's love for taking risks and her resolve in addressing challenges eventually led her to advocate for the cause of homeless young women. She truly believes that this group of individuals, albeit vulnerable, was brave enough to challenge discriminatory social norms and holds a chance at molding their own destiny.
Deepali has a Master's degree in Economics and is currently pursuing her Management Studies. She has extensively worked with youth and women for the past 18 years and has advocated for them in various government bodies like the Juvenile Justice Board and the Department of Women and Child Development. To help deal with instances of conflict with law, Deepali has been conducting police training sessions on the rights of juveniles, and has also been involved in research on the Aftercare Program for vulnerable individuals in Maharashtra. Furthermore, she has been holding training sessions for other stakeholders: NGOs, young women and so on. As an emerging leader, Deepali has collaborated with different humanist movements and networks all over the country. She has used her experience and learning to fuel the mission of Urja, which in turn has allowed her to work compassionately with young women and the government alike.
Aditi Naik : Co-founder

At Pratha, she started her career with the implementation of the Slum Sanitation Program in the slums of Mumbai. Presently, she is involved with the project Management Services of MCGM for monitoring the activities under Slum Sanitation Program (SSP). Her experience in sanitation for the last four years gave her tremendous insight into other related issues like seepage management, health and hygiene, sustainable sanitation and improving the quality of sanitation facilities provided by MCGM.
She is an expert in her own right when it comes to working with slum communities of Mumbai, community mobilization, formation of Community Based Organizations, report writing, networking, conducting surveys, hosting trainings and events, and forming liaisons with MCGM and various other government departments.
In 2004, Aditi and Deepali worked together on a rehabilitation program for street children, understanding in the process their similar individual strengths. Aditi had always wanted to work for the rights of women and Urja proved to be the perfect avenue to actualize her passion. She works with renewed dedication with our young women and is the link between them and the opportunities provided by the outside world.
Altaf Shaikh: Co-founder
In his 35 years in the development sector, Altaf started off as a volunteer working with children living on the streets and went on to become one of the founder members of Saathi, an NGO which works with youth living on the streets and their rehabilitation.
This intense and ongoing engagement has not only exposed him to various dimensions of work with children and young adults, and various strategies of interventions but also the nuances of organizational functioning like governance, leadership facilitation, program planning, monitoring and evaluation.
Altaf has been using the 'Outward-Bound' Learning Methodology (OBL) to stimulate and motivate participants. The framework and design of these wilderness programs are built to create a series of intense, life like experiences and simulations that engage participants by enabling them to get in touch with their mental and physical capacities, things that may have been corroded over years. Altaf's expertise has been strengthening and conditioning the foundation of the organization and encouraging the journey forward.